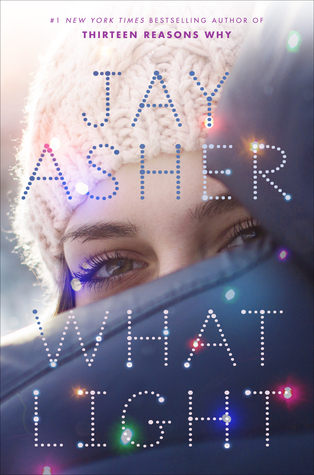 Title: What Light
Author: Jay Asher
Rating: ☆☆☆☆
Purchase: Amazon ~ Kindle
Synopsis:
Sierra's family runs a Christmas tree farm in Oregon—it's a bucolic setting for a girl to grow up in, except that every year, they pack up and move to California to set up their Christmas tree lot for the season. So Sierra lives two lives: her life in Oregon and her life at Christmas. And leaving one always means missing the other.

Until this particular Christmas, when Sierra meets Caleb, and one life eclipses the other.

By reputation, Caleb is not your perfect guy: years ago, he made an enormous mistake and has been paying for it ever since. But Sierra sees beyond Caleb's past and becomes determined to help him find forgiveness and, maybe, redemption. As disapproval, misconceptions, and suspicions swirl around them, Caleb and Sierra discover the one thing that transcends all else: true love.
My Review:
This book was so adorable. This is my first Christmas themed book, and I gotta say I want more.
My goal was to read this book before Christmas, I managed to do that. It was such an easy read. It was easy to get in to and easy to understand.
I really wish there was more of this book though. It gave me a cliffhanger feeling. I don't know what will happen with Caleb and Sierra. I need to know.
I can't help feel like this book was a little plain. Nothing was too dramatic, which was a bit boring. The romance was cute, but like thirteen-year-old cute.
I felt like there could have been more drama!!! The drama that was in this book was nothing compared to what it could have been.
All-in-all it got four stars because of how adorable it was. Definitely worth reading it around the holidays.