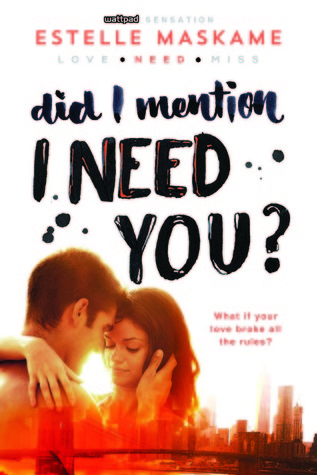 Title: Did I Mention I Love YouAuthor: Estalle MaskameGenre: YA, Contempory, RomancePages: 352Chapters: 31Started: 01/24/2017Finished: 0/25/2017Purchase: Amazon ~ KindleRating: ☆☆☆☆☆
Synopsis:
Love has no rules.

It's been a year since Eden Munro last saw Tyler Bruce: her stepbrother…and secret love. Although they swore to ignore their feelings and put their family first, Eden can't help but feel excited when Tyler invites her to join him in New York City for the summer.

But it's not like anything is going to happen. Eden is happy with her boyfriend Dean, and she knows gorgeous, green-eyed Tyler must have moved on as well. But as they spend the long, hot summer in the city that never sleeps, it becomes obvious that those old feelings are still there…simmering beneath the surface. Will Tyler and Eden be able to resist temptation?
This book had me on my toes since the first page. I was rooting for Tyler since the first page. Up until the last chapter, of course.
One of my favorite fictional couples find their way back to each other. Even with all kinds of obstacles in their way. They tell everyone their big secret.
Everything is out in the open. Finally.
My heart was pounding this entire book. It was so drama-filled, I loved it!!!
P.S. Eden's mom is the real MVP for her reaction to them telling her.
Of course, this book also ending up making me really upset/mad.
No te rindas.