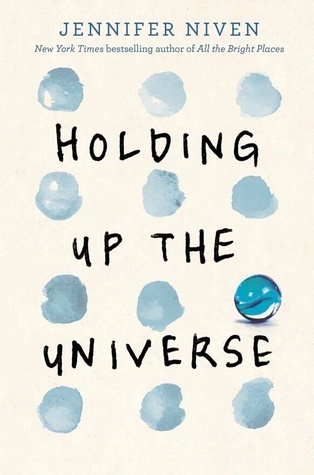 Title: Holding Up The Universe
Author: Jennifer Niven
Purchase: Amazon ~ Kindle
Rating:

☆☆☆☆☆
Synopsis:
Everyone thinks they know Libby Strout, the girl once dubbed "America's Fattest Teen." But no one's taken the time to look past her weight to get to know who she really is. Following her mom's death, she's been picking up the pieces in the privacy of her home, dealing with her heartbroken father and her own grief. Now, Libby's ready: for high school, for new friends, for love, and for every possibility life has to offer. In that moment, I know the part I want to play here at MVB High. I want to be the girl who can do anything. Everyone thinks they know Jack Masselin, too. Yes, he's got swagger, but he's also mastered the impossible art of giving people what they want, of fitting in. What no one knows is that Jack has a newly acquired secret: he can't recognize faces. Even his own brothers are strangers to him. He's the guy who can re-engineer and rebuild anything, but he can't understand what's going on with the inner workings of his brain. So he tells himself to play it cool: Be charming. Be hilarious. Don't get too close to anyone.
My Review:
This book follows two people: Libby Strout and Jack Masselin. Two complete opposite people. I really enjoyed both characters and there wasn't anything I didn't like about them.
Libby is a strong-willed girl who used to weigh over 600 pounds. She shed most of the weight off but she's still a bit bigger than most girls her age. Her being bigger is how she meets Jack.
Jack has ass hole friends. They make him ride Libby like she's a bull in a rodeo. Jack only pretends to be like his friends, just to fit in with everyone. He has a secret he's hiding from everyone: he's face-blind.
After their mishap together, the principal makes them do community service and counselling together, making them get closer.
As their friendship grows, so does their bond. She convinces him to see a doctor about his prosopagnosia. That's when they both begin to realize they have more feelings toward each other than friendship.

This book was so sweet and heartwarming. I didn't want to put it down! I love the relationship between Libby and Jack. It's not the typical romance you see in almost every book and that's what makes it beautiful.

Although, I am kind of upset that the marble doesn't really mean anything!! Unless I missed something...
About The Author:
All the Bright Places is Jennifer Niven's first book for young adult readers, but she has written four novels for adults -American Blonde, Becoming Clementine, Velva Jean Learns to Fly, and Velva Jean Learns to Drive- as well as three nonfiction books -The Ice Master, Ada Blackjack, and The Aqua-Net Diaries, a memoir about her high school experiences. Although she grew up in Indiana, she now lives with her fiance` and literary cats in Los Angeles, which remains her favorite place to wander. For more information, visit JenniferNiven.com, GermMagazine.com, or find her on Facebook.