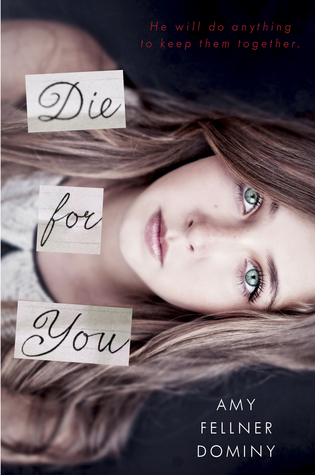 Die For You
By Amy Fellner Dominy
Published By:
Delacorte on November 8th 2016
Genres:
Young Adult, Contemporary, Romance
Pages:
304
Purchase:
Amazon
-
Kindle
Rating: ☆☆☆☆☆
Theirs was the perfect love story.

After Emma Lorde's parents' divorce forces her to move halfway across the state of Arizona to live with her father, Emma must face her senior year in a new school knowing absolutely no one.

Then she meets Dillon Hobbs, and something just clicks.

Dillon introduces Emma to friends she can call her own. He provides a refuge from the chaos of her past, and the security of a commitment that he promises will last forever. And because circumstances of her messy life forced Emma to put aside her dream of pursuing archaeology, Dillon creates a blueprint for a future together.

He saves her, over and over, by loving her more than she thought anyone ever would.

But just when everything seems picture-perfect, Emma is offered an opportunity that will upend the future they've planned. Uncertainty grows, and fear spirals into something darker.

Now Dillon is the one who needs saving.

But how much do you sacrifice for the one you love? What if saving Dillon means losing herself?
This book did some damage to my heart. I didn't realize how depressing this book was going to be. I honestly didn't really read the synopsis before I picked up this book. I bought it sometime last year because I really liked the cover. I added it to my TBR list for September and I'm so glad I did.
Die For You
follows Emma, a very intelligent senior who just moved with her dad to a new town. New town means new school and new friends. Lucky for Emma, before the move she runs into Dillon and Jace. They become quick friends and even more.
Emma and Dillon begin their relationship. For them, it was a quick love. They couldn't stand to be separated. When Emma gets an amazing opportunity to study abroad in Rome with an internship, there's no way she can say no.
That is, until she tells Dillon. Dillon has separation issues. He begins to worry that if she leaves for Rome, she won't come back. He starts acting strange and Emma doesn't know how to fix him.
This book touches on so many issues. There is one issue I think should have been discussed more and I don't want to mention it because of spoilers and whatnot.
This book is not lighthearted. You will leave this book with a heavy heart and possibly some tears in your eyes.
I do want to put a trigger warning for self harm and abusive relationships.